"BIG IRON"
FRANK FOTUSKY
&
GRANT DERMODY
Frank and Grant were brought together in the summer of 2004 by Trish Byerly, John Jackson's manager. Both performers are greatly influenced by John, not only by his abilities as a musician but first and foremost by his humanity.
Come and enjoy these musicians together as they explore the Americana soundscape.
"Grant dedicates his newest CD, Crossing That River, to Piedmont blues legend, John Jackson who passed away in 2002. Grant calls John a "loving presence." The existence of this "loving presence" continues in Grant Dermody - in his song selections, in his musical execution, in his passion. Every ounce of his being is transformed into an immediate connection, a sound offering - to the listener, to the fine collection of players, and to the spirit. Grant describes John as having passion, power, honesty and depth of character. I find these same traits in Grant - and in his music." ~ Gaye Adegbalola, Alligator recording artist and founding member of Safire, the Uppity Blues Women
Grant Dermody (pronounced DER muh dee) is a harmonica player and singer known for his rich tone, tasteful solos, and solid rhythmic playing. Grant moves through a variety of musical styles while maintaining his own distinctive sound.
A sought after accompanist, Grant has appeared on several Jim Page recordings, plays on Dan Crary's new album, Renaissance of the Steel String Guitar; and has also recorded with Michael Grey (of Pearl Django) and Michael Gettel. Grant has performed with Cephas & Wiggins, John Miller and Orville Johnson, Antion, Big Joe Duskin, John Dee Holeman, Robert Lowrey, and Honeyboy Edwards. He was a featured artist with Orchestra Seattle playing the harmonica part in Huntley Beyer's Symphony, Romantic Lines. He is a member of the blues influenced old-time band, The Improbabillies, whose self-titled CD on the Yodel-A-Hee label is a fine example of Grant's innovative playing.
"Grant has it all, time, phrasing, great ideas, and above all a stunning tone. Totally in the tradition but with a real voice of his own." Wayne Horvitz. Internationally known pianist and composer.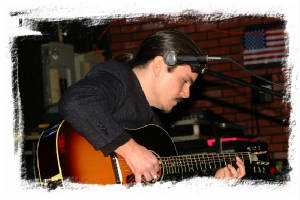 Frank Fotusky plays Acoustic Blues in the style reminiscent of the great East Coast "Piedmont" players such as Rev. Gary Davis, Blind Boy Fuller, John Jackson, and Blind Willie McTell. A majority of his material is culled from the '20's, '30's and '40's and Acoustic Blues and Guitar Rags are the foundation of his music. Along with this repertoire, his original compositions are rooted in this era and still carry a contemporary feel. East coast or "Piedmont Blues," as it is so often called consists of sophisticated syncopation with fingerpicked guitar. The result is a sound that resembles that of the ragtime piano.
A finalist in the solo division at the 2003 International Blues Challenge in Memphis TN., Frank has performed at major blues festivals and venues throughout the northeast including the NY State Rhythm & Blues Festival, NJ Folk Festival, The Red Bank Jazz & Blues Fest, Herndon VA Blues Festival, Riverhead Blues Fest. Long Island, NY, Caffe Lena, Godfrey Daniels, The Big Kahuna Café, The Dolphin Striker, and The Stone Pony, Asbury Park, NJ.
Frank has shared the stage with Virginia Bluesman John Jackson, Paul Geremia, Roy Book Binder, and Hubert Sumlin just to name a few. BLUES ACCESS has said, "(Frank) offers a sparkling guitar sound on fine Piedmont-style blues and rags....Fotusky's clean fingering draws you in and projects the music, which would be somber in other hands, out." In the fall of 1999, Frank released his first CD "TEASIN' THE FRETS" to widespread critical acclaim. BLUES REVUE stated, "Thirteen heartfelt cuts...played and sung with care and emotion." Tom Olson from the BLUES CONNECTION said, "Frank understands and plays the music authentically," and BIG CITY BLUES offered, "This is a player that would be welcomed on any porch, front or back!"